The Gunnison 24/7 Gym is a self – serve fitness facility located conveniently across the street from City Market at 821 North Main Street in the center of the beautiful City of Gunnison, Colorado. Our 3,800 square foot facility provides a wide array of fitness equipment, including Treadmills, Ellipticals, Adaptive Motion Trainers, Stationary Bicycles (Both upright and recumbent), Stair Climbers, Rowing Machines, and all manner of weights and resistance equipment along with belts, bands and benches for our members and guests.  We are constantly adding and/or upgrading our equipment to stay current with the best available in the Fitness Industry and take our member's suggestions seriously when they feel we should consider adding a new item to the gym. We remain the sole fitness facility in Gunnison County equipped with the necessary technology to provide 24-hour access, 7 days per week access. Our service area includes Gunnison, Lake City, Crested Butte South, and the towns of Crested Butte, and Mount Crested Butte.  Our mission is simple; to create 24-hour convenience in a safe and secure environment along with providing our members the #1 value proposition for Fitness Club Membership in the entire Valley.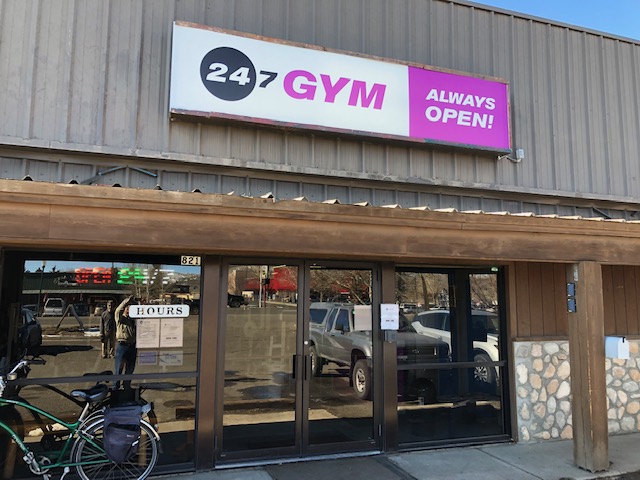 AMENITIES
24/7 MEMBER ACCESS TO FACILITY
TOUCHLESS TRANSACTIONS
COMPLIMENTARY TOWEL SERVICE
MENS, LADIES LOCKER ROOMS & SHOWERS
MEMBER WIFI
SATELLITE TV, 3 LARGE LCD TVS
PROFESSIONALLY CLEANED ON A DAILY BASIS
PROGRAMS FOR SENIORS
FRIENDLY MEMBERS
CONVENIENCE
Members register their accounts through the "Member Login" link on this page.  Once registered, members can view their activities at the gym, manage their accounts and, if needed, make payments in order to stay current and enjoy uninterrupted access to the facility.  The 24/7 Gym is a self-serve facility and members access the gym by entering their personal ID number on a keypad adjacent to the front door.  These personal ID numbers are usually issued via text within 24 hours following a successful customer sign up on this website.  Inside the gym and adjacent to the office are two I-Pad Kiosks where members can insure their account information is kept current including updating their payment methods.
SAFETY & SECURITY
For our member's added safety and security, the gym is also monitored 24/7 by 2 separate security camera systems having a total of 15 different camera views of both the interior and exterior of the facility.  This technology along with our remote door controller and digitally switched telephone system allows us to manage the gym effectively even during non-staffed hours so we can be responsive to member's needs even when we are not physically onsite.